If you are an owner of Locksmith Company, and you tend to provide your products and services through your website; trust us, you are no less than a hero to the people who live around you. This is because as affordable locksmiths, you've always served people who get stuck in minor or major inconvenient situations. For example, getting locked out of the car and even the house at odd hours.
We've seen that the marketplace for locksmiths has started to get overpopulated. When you search online for local locksmith services, you'll start to see a list of all the companies that are willing to provide you with their services. Which one to trust, because not all of them will be able to provide you with top-of-the-line quality workmanship. This is why experts highly suggest that research is imperative!
We all know that we're living in a world that is tech-savvy. Clients can search for companies they want to work with by taking out their mobile phones and conducting a quick search, right? So, if you want to get discovered easily and quickly by prospective customers, you will need to opt for some best SEO tips and tricks for an affordable locksmith.
Don't worry, in this comprehensive article we've managed to list 5 of the most compelling strategies that you need to develop for your company that offer services for a commercial and residential locksmith.
5 Strategies For Increasing Online Presence For Locksmith Services
When you type and search for "affordable locksmith services", you see a list of companies who offer their services in the area, right? If you want to outshine among them, then you need to consider the below-given SEO tips and tricks. They'll help you with your online marketing strategy for sure.
1: Use Location-Based Keywords
Let's suppose that someone out there is looking for a professional locksmith because they've managed to get themselves locked out of their house or their car at the most inopportune time. Such people would want to hire someone who operates in their area and can reach out to them as fast as they can.
After reading the above scenario, you'll come to know that the potential customers would be searching for a local locksmith. So, you need to optimize your website for location-based keywords. This is also known as local SEO.
For example, if you've ranked your website against "commercial locksmith in Atlanta", you can expect better results than if you only rank it against locksmith services.
You need to be specific with your location-based keyword. This is the only sure way to attract more local visitors.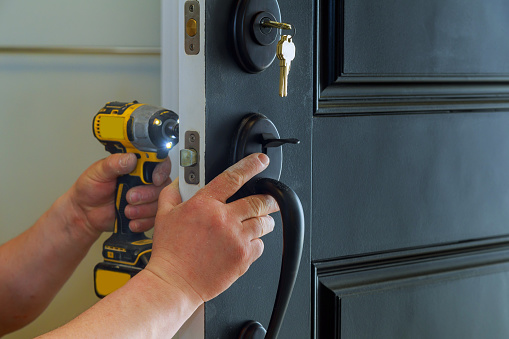 2: Optimize Website For Mobile-End Users
Over the past couple of years, we've seen a huge change in the trend of searching. We've seen that a lot of people tend to use their smart devices such as mobile phones, tablets, iPads, and other gadgets for browsing the internet.
More than 70% of people conduct online research prior to hiring a company. So, if your website is not well-optimized to cater to mobile-end users, then you can expect to lose a lot of prospective clients who search for affordable locksmith services.
To be honest, if your official website is not optimized for mobile users, you are truly missing out on a lot of potential customers.
Did you know that mobile responsiveness is also a major ranking factor? No matter how much the content on the website is informative, until or unless it's not well-optimized, you'll make no difference in generating new leads.
3: Update The Content
Whenever people look for affordable locksmiths on local business listing directories such as QRG101, they'll choose to click on the top 5 – 10 websites. That's human nature!
So, how do you think that you'll be able to rank in the top spots? Well, the answer is pretty simple! You need to create fresh content that is of high value to the customers.
All of the search engines are constantly looking for updated and fresh content that is relevant to the niche of the website in order to rank them in the top spots. The same is the case for business listing directories. This is why you need to maintain a blog section on your official website and also you need to constantly update it.
Updating the content on your affordable locksmith website with the targeted keywords will help you gain authority.
4: Include Backlinks
Did you know that search engines such as Google and Bing have a tendency to open all the backlinks to your website from all the other credible sources and give your website a score?
Note: You need to stay away from link farming practice. This is a black-hat SEO technique and you will be penalized for using it.
Keep in mind that you should not purchase backlinks or else you'll get penalized and blacklisted instantly. Experts highly suggest that you need to gain organic backlinks in order to enhance your locksmith website. And of course, you need to create top-notch quality content that is not only informative but relevant to the niche as well.
5: Get As Many Positive Reviews
You know that you've always managed to provide your customers with satisfactory services, right? Now you need to ask the customers to leave a positive review on business directories such as QRG 101 and Google My Business.
Positive reviews will not only help in ranking better on the search engines but also serve as a vote of confidence for the consumers who are searching for services that you also provide. So, the more positive reviews and ratings you get, there is a higher the chance that people will hire you instead of other locksmiths.
Bottom Line
These were just some of the SEO tips and tricks that you might use in order to increase your visibility online. Also, remember that you need to be patient as SEO takes a long time to show results.